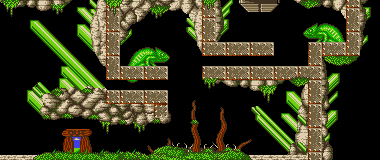 ---
Where Lemmings Dare is the seventeenth level of Havoc, featured in Oh No! More Lemmings.
Have the first Lemming build at the second rivet after landing. The second Lemming should build left between the two right rivets of the second block from the right. This will create a seal, but not before two Lemmings get past it during the build. The first of those should build between the two leftmost rivets on the platform, and turn around after hitting the top layer.
The second should continue where that one left off, and bash to land on top of the sapling, immediately select builder and click rapidly at the small moss patch to start another bridge. mine just before reaching the piece of ground under the corner. After getting past the roots, build just before reaching the top of the mound to get over the two rightmost Vine Traps. Another builder a couple steps after landing from that should complete a safe path to the exit. Max out the Release rate and dig through the sealing bridge to get the rest there and save 100%.
Access codes
Edit
This level's name is based on the movie Where Eagles Dare.
Community content is available under
CC-BY-SA
unless otherwise noted.