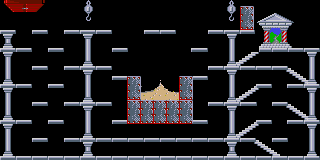 ---
Up, Down or Round and Round is the nineteenth level of Wicked, featured in Oh No! More Lemmings.
Immediately raise the release rate to 99 and let the lemmings drop down to the bottom and get grouped together. Bash through the two pillars at the bottom, starting as close as possible so that they are cleared with one swipe. Build over the four gaps in the staircase leading to the exit (the last one is one pixel wide and located just to the left of the exit), each time starting from the edge of the platform. There is a Pounder Trap hidden behind the exit, but as long as your lemmings are clustered together, you should not have more than the nine allowed casualties.
Access codes
Edit
Amiga: LGALVUDPEH / LGALUUDPEG
DOS:
Macintosh: HGAMTWLPEM
There are two more Pounder Traps located under the steel vat of quicksand.
Some ports were unable to hide the Pounder trap behind the exit, so it appears in front of it.
Community content is available under
CC-BY-SA
unless otherwise noted.