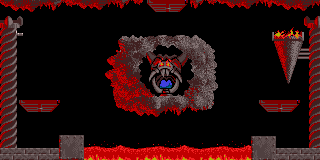 | | | | | | | | | |
| --- | --- | --- | --- | --- | --- | --- | --- | --- |
| 80 | 10 | 10 | 10 | 10 | 10 | 10 | 10 | 10 |
Other versions
DOS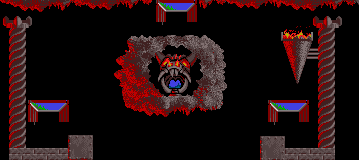 PSP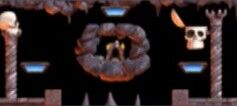 ---
Triple Trouble is the twenty-sixth level of the Taxing difficulty in Lemmings.
Strategy
[
]
The title of the level is very telltale this time. Especially the "trouble" part, as you are allowed to lose only ONE Lemming. Luckily, your stocks have 10 from every skill.
First, use a Digger skill on one of them Lemmings at the top trapdoor. Mind you, do NOT use said skill directly under, or your Lemmings will die from the fall. That takes care about the top trapdoor but keep the release rate at 80 for now. As for the two other trapdoors at the sides...
Apply one Climber on both sides, and when they reach the top of the steel block, immediately use Builder skills on them. Alas, the ramp will not be quite high to reach the ground of the exit's cave. What you shall need to do is utilize two Miners from the Lemmings that are arriving from the top trapdoor, so they can dig up a diagonal tunnel from above. It is easy at the right side, but not so easy at the left side - you must use a Builder skill on one of the Lemmings to stop it from reaching the exit, granting it passage to the left corner of the exit cave, where it can be used as a Miner. You shall need to calculate precisely where to start mining, but apart from this, it can be done without any major problems. When both passages are ready, use two more Builder skills on the left & right basins under the trapdoors to allow your Lemmings reaching the exit.
An alternative way to create the left Miner tunnel is to turn the second Lemming that comes out of the upper entrance into a Climber as it facing left while in the Digger's tunnel to the exit. Have it dig down so it lands on the left side of the exit then mine down to create the left tunnel ahead of schedule. This will save the player valuable Builder skills but at the cost of the Lemming's life.
Version differences
[
]
Atari Lynx
Only has 40 Lemmings and 39 must be saved.
Macintosh
Only has 80 Lemmings and 79 must be saved.
PC
Only has 80 Lemmings and 79 must be saved.
The player is given 12 Builders instead of 10.
2006 Remake
7 minute time limit.
The player is given 12 Builders instead of 10.
Access codes
[
]
Acorn Archimedes / Atari Lynx: LEMSINAFIX
Amiga: FHFIJLLGHX
DOS: NHGIJNNGHU
Macintosh: NHGOKONGHM
Sega Genesis: XWKLT (America) / DRHYS (Europe)
SNES: XZZSDDN
---