We're Getting Mutants in the MCU - The Loop
Play Sound
Other versions
DOS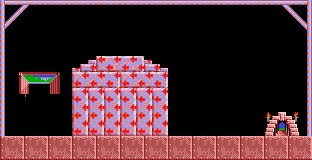 PSP

One-way arrows omitted from preview
---

Tribute to M.C.Escher is the eighteenth level of the Taxing difficulty in Lemmings.
Strategy
[
]
For those who are curious to know, the way that this is a tribute to M.C. Escher, is due to the one-way arrow wall looking like his famous style of tessellation artwork.
A somewhat easy level for this difficulty. Just like before, the main problem is the one-way stone structure on the right.
Have a Builder make a staircase starting from the very side of the one-way stone structure heading left. When the ramp gets long enough, make one Bomber which destroys the bottom of the ramp, therefore no Lemmings can follow (no Blockers here) Raise the release rate to 99.
When the Builder reaches the top, make it a Floater so it'll survive the drop. You must turn it around - there is no other way than to build a ramp above the exit until it collides with the rightmost wall. When you've managed this, have it bash through the one-way stone, and use a Bomber skill on the ramp at the exit. 97% saved!
100% Strategy
[
]
Just to the left of the joint between the first two blocks of steel, build three stacked bridges heading right, such that they stop lemmings from crossing beneath them while walking to the left. Raise the release rate to 99, and let all the lemmings out. Assign the 75th lemming to start at the top of the left-most stacked bridge and complete the zigzag bridge to the top of the one-way wall. Use your bridges as efficiently as possible to complete the zigzag bridge, because you will likely use all of them to complete the level.
Make this lemming a floater to survive the fall on the way to the exit. Use two builders to cross over the exit, so this lemming doesn't exit prematurely. Build one bridge toward the one-way wall, so the remaining lemmings survive the fall. Bash through the bridges over the exit, and assign a left-facing lemming to build out of the region where you contained the crowd. It may take a couple bridges to complete this escape, since the first builder will likely bump his head. This works best on a platform where you can selectively assign tasks in a manner that is direction-specific.
Version differences
[
]
2006 Remake
Access codes
[
]
Acorn Archimedes / Atari Lynx: VOTESFORME (votes for me)
Amiga: DHFIJLMOGN
DOS:
Macintosh: IMDMGKNMIW
PC:
Sega Genesis: DPKXP (America) / KJHLP (Europe)
SNES: QPDDJFB
Trivia
[
]
This map is also used in level 11 of the Fun difficulty, Keep your hair on Mr. Lemming.
The title and the use of Builders in this level may be a reference to Dutch artist M.C. Escher's Relativity print.
---