Other versions
Sega Master System/Sega Game Gear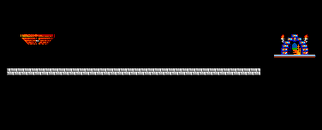 Spectrum

---
Tightrope City is the twenty-fourth level of the Tricky difficulty in Lemmings.
A simple thin floor leading to the exit which is on another thin floor. Some city this is, huh? Well, the solution is pretty simple, but it's still quite easy to mess things up here.
First, allow the leading Lemming to build a ramp to the exit - it shall require two Builders. The second Lemming must be turned to a Blocker, and you shall need another Blocker left of the entrance, otherwise your Lemmings will fall down and die. When the ramp is ready, you still have one Builder left. You can't use a Bomber because the floor is much too thin. Instead, make a Lemming heading to the right a Builder, building over the Blocker, allowing the other Lemmings into the exit. Quickly blow up the two Blockers when all Lemmings are safely on their way.
Time limit is quite strict here, you'll definitively have to act fast and raise the release rate to 99 while building over the Blocker.
100% solution
Edit
Youtuber metroidmaster88 has demonstrated that it is possible to save 100% of all Lemmings on the Sega Genesis version. The solution is the same as listed above however the left blocker holding the other Lemmings back must be placed directly underneath the entrance. After the lead Lemming has begun building to the exit, one Lemming about to bounce back on the right blocker must dig, which will remove the terrain under the blocker, freeing it, then bash immediately after to keep it from falling through, once no more Lemmings are heading to the left, a Lemming that has landed next to the remaining blocker can repeat this process.
Version differences
Edit
Atari Lynx
Only has 40 Lemmings and 37 must be saved.
ZX Spectrum
Only has 20 lemmings and 13 must be saved.
The exit is levitating in the air.
Acorn Archimedes/Atari Lynx: PLAYINMORE
Amiga: FIBIJLLGFS
DOS:
Macintosh: NMBMKNNGFX
PC: NMBIJNNGFS
Sega Genesis: JYKPL
SNES: PQZWDKM
ZX Spectrum: IKHLDIBCEY
This map is the 34th level on the Spectrum version of Lemmings and the 4th level in the Taxing difficulty.
---
Community content is available under
CC-BY-SA
unless otherwise noted.