Other versions
Sega Master System/Sega Game Gear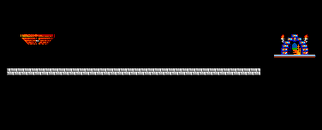 ---
Tightrope City is the twenty-fourth level of the Tricky difficulty in Lemmings.
A simple thin floor leading to the exit which is on another thin floor. Some city this is, huh? Well, the solution is pretty simple, but it's still quite easy to mess things up here. First, allow the leading Lemming to build a ramp to the exit - it shall require 2 Builders. The Lemming behind must be turned to a Blocker, and you shall need another Blocker at the left, otherwise your Lemmings will fall down and die. When the ramp is ready, you still have 1 Builder left. Utilizing a Bomber is a dumb thing to do because the floor is much too thin. Instead, make a Lemming heading to the right a Builder, building over the Blocker, allowing the other Lemmings into the exit. Quickly blow up the two Blockers when all Lemmings are safely on their way.
Time limit is quite strict here, you'll definitively have to act fast.
---