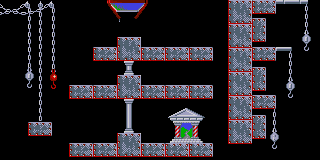 ---

This Corrosion is the third level of the Wicked difficulty in Oh No! More Lemmings, and the fourth and final level in Xmas Lemmings 1991 (PC version).
The first two lemmings must build at the edge of the steel. A climber goes back over the steel brick on which the lemmings land, and falls over. He builds to the red hook, climbs up to the short pillar, and bashes. He builds at the edge. He makes his way to the middle chain, next to the one with the red hook, and builds to it from the steel block underneath, to turn around. He builds to the lower steel, climbs up, and bashes the tall post. He builds over the exit, and then closes the gap, and exits.
Rate up, and let the others down gently to the exit.
Access codes
Edit
Community content is available under
CC-BY-SA
unless otherwise noted.