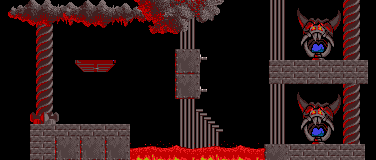 Other versions
DOS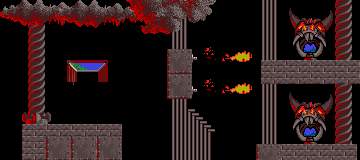 ---
The Prison! is the fifth level of the Taxing difficulty in Lemmings.
Apply the second Lemming as a Blocker, and order the first one to dig down at the edge of the ground, until he hits steel. Then order him to be a Builder, your targets are those bars under the flamethrower.
Now this will be tough. You have to utilize Basher and Builder skills accordingly, but you must be very precise where and when you apply these skills. Each bar has a minuscule gap after which is unfortunately wide enough for your Lemming to fall and die, so you must be extremely precise here. After the last bar, you shall have to apply another Builder skill, and when the gap has been crossed, a Digger one, before your Lemming hits the flamethrower and fries to delicate brown. Allow him down the steps. Start building another ramp towards the lower exit, and once again, use Basher skills to get thru the bars (you must be very precise where you apply the Basher skill), then detonate the Blocker to allow your Lemmings into the exit.
You can also try and reach the upper exit by applying the first Lemming as a Blocker, and then using a Builder. You must start the ramp right under the trapdoor when your Lemming is facing left to ensure the trajectory will be correct. When you reach the top bars, remember to utilize the first Basher skill carefully - if you smash the way in the wrong direction, you gonna get it!
---