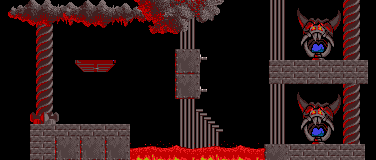 Other versions
DOS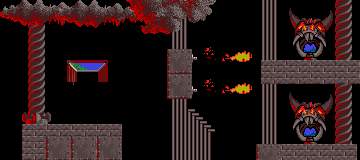 PSP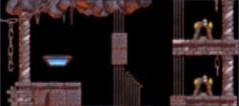 Flamethrower omitted from preview
Spectrum

---
The Prison! is the fifth level of the Taxing difficulty in Lemmings.
Turn the first Lemming into a Blocker before the lava while the second Lemming starts building a ramp to the left starting from under the trapdoor. Raise the release rate to 99 and have one Lemming dig through the bridge to let your Trailblazer work alone. When he hits the pillar, have him continue building to the right. If done correctly, he should gain enough altitude to reach the prison bars above the Flamethrower Traps.
Have him bash through the and continue building to the next set of bars before the exit. Have it bash through the bars: this will cause him to fall down and get stuck between the first and second bars. While he's heading right, make him bash again to clear a path to the exit. Build over the hole in the ramp to let the other lemmings reach the exit and bomb the blocker.
Alternate strategy
Edit
Reaching the lower exit is also possible but much more difficult.
Make the first lemming dig after a few steps. The second should escape the pit, so have that one dig down at the edge of the ground, until he hits steel. Then order him to be a builder, your targets are those bars under the flamethrowers.
Now this will be tough. You have to utilize basher and builder skills accordingly, but you must be very precise where and when you apply these skills. Each bar has a minuscule gap after which is unfortunately wide enough for your lemming to fall and die, so you must be extremely precise here. After the last bar, you shall have to apply another builder skill, and when the gap has been crossed, a digger skill before your lemming hits the flamethrower and fries to delicate brown. Allow him down the steps. Start building another ramp towards the lower exit, and once again, use basher skills to get through the bars (you must be very precise where you apply the basher skill), then build out of the pit to allow every lemming into the exit.
Version differences
Edit
Atari Lynx
Only has 40 Lemmings and 18 must be saved.
There are platforms located above and below the flamethrowers.
The floors on which the exits sit extend further away from the "prison bars".
2006 Remake
Access codes
Edit
Acorn Archimedes/Atari Lynx: STILLALIVE (Still Alive)
Amiga: FAJHLDHBGT
DOS:
Macintosh: GCJKNLHBGT
PC: FAJHLDHBGT
Sega Genesis: VKDSN (America) / BFBGH (Europe)
SNES: DXCQKRX
ZX Spectrum:
This map is the 40th level on the Spectrum version of Lemmings and the 10th level in the Taxing difficulty.
---
Community content is available under
CC-BY-SA
unless otherwise noted.