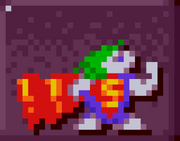 This article is about the Lemmings 2 skill. For the Oh No! More Lemmings level, see Inroducing SUPERLEMMING.
SuperLem (also known as Super Lemming or Super Lem!) is a skill that can be given to a lemming in Lemmings 2: The Tribes. A SuperLem dons a cape and takes flight, following the cursor. If the lemming hits a floor, wall or ceiling, it will be stunned. If it reaches the position of the cursor, it will fly up into the air, strike a pose, and float down to the ground. If the player does not move the cursor from the lemming's position, it will simply pose for a moment and continue walking. Only one SuperLem can be active on the level at any time.
The SuperLem's red cape and "S" marking on his chest is an obvious reference to D.C. Comics Man of Steel Superman.
SuperLem reappears in Lemmings: The Official Game for mobile devices, as a member of the Heroes Tribe rather than a skill.

It is also worth noting that this version wears a circular "L" symbol on his chest rather than a shield-shaped "S" symbol, probably to avoid trademark issues.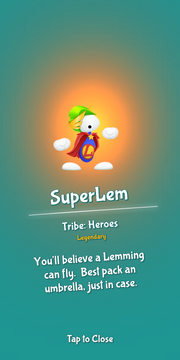 Community content is available under
CC-BY-SA
unless otherwise noted.