We're Getting Mutants in the MCU - The Loop
Play Sound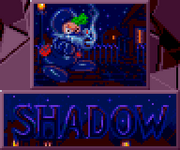 The Shadow Tribe is one twelve Lemming tribes trying to escape The Great Darkness covering Lemming Island in Lemmings 2: The Tribes. The Shadow Tribe also appears in The Lemmings Chronicles as one of three tribes attempting to populate various islands.
Lemmings 2: The Tribes
[
]
Culture
[
]
In-game Shadow Lemming's levels take place at nighttime, thus it is hard to tell if their tan skin and purple hair are emphasized by the darkness. The similar hair and clothing colors in Lemmings 2 are likely meant to resemble the ninja-esque bodysuits worn in the artwork and The Lemmings Chronicles.
Levels
[
]
Handheld/SMS levels
[
]
Land of OZ!
NITRAM THE HUGE!
Twin Bleeps
The Pancake Factory.
Swingadingding
Fritbatter Frolics!
Goossen's Inferno!
SPINNY THANG....
Moonswings
Access code
[
]
In the Game Boy and Game Gear ports, the access code for the complete Shadow tribe is RPFVSJHW.
Music
[
]
The track "Shadow Tribe" appears to borrow its bass line from part of the Theme from Mission: Impossible. In the FM Towns and Genesis ports, it is an entirely original track.
The Lemmings Chronicles
[
]
Levels
[
]
Shadow Level 1

Shadow Level 2

Shadow Level 3

Shadow Level 4

Shadow Level 5

Shadow Level 6

Shadow Level 7

Shadow Level 8

Shadow Level 9

Shadow Level 10

Shadow Level 11

Shadow Level 12

Shadow Level 13

Shadow Level 14

Shadow Level 15

Shadow Level 16

Shadow Level 17

Shadow Level 18

Shadow Level 19

Shadow Level 20

Shadow Level 21

Shadow Level 22

Shadow Level 23

Shadow Level 24

Shadow Level 25

Shadow Level 26

Shadow Level 27

Shadow Level 28

Shadow Level 29

Shadow Level 30