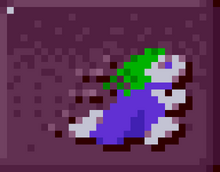 Runner is a skill that can be given to a lemming in Lemmings 2: The Tribes. A Runner sprints across the ground, traveling much faster than a walker. If it reaches the edge, it will jump slightly rather than just falling, unless it is also a Slider, in which case it will slide down. The Runner is a permanent skill - once assigned to a lemming, it has that skill for the rest of the level.
Effects on other skills
Edit
In addition to the above, Runners will execute some skills differently to other lemmings:
Community content is available under
CC-BY-SA
unless otherwise noted.