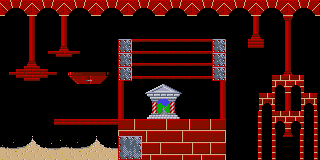 ---
Quote: "That's a good level" is the first level of the Crazy difficulty, featured in Oh No! More Lemmings. Unlike the jump from Fun to Tricky in the original Lemmings, the jump from Tame to Crazy has a much higher difficulty spike.
Have the first lemming become a climber.
The second lemming will hit the wall and turn around. Make him a blocker after he passes the trapdoor.
Once the first lemming reaches the top, have him dig three times. Wait for him to hit the wall, turn around, and pass the exit from above before making him dig again.
Doing this should drop him walking left from the exit. Just before hitting the wall make him a blocker, and then a bomber.
If done correctly, there should now be a hole in the wall which the rest of the lemmings can use to get to the exit.
This method is trickier to execute, but lets you beat the level much faster.
Have the first lemming hit the wall and turn around. Make him a blocker at the far left of the platform.
Wait for the second lemming to turn around and make him a climber as he is heading to the blocker.
Here's the tricky part. The second lemming should be made a bomber at a specific time so that he explodes just after he has climbed a bit, but not too high on the wall to the right. If timed right, this should result in a hole in the wall but none on the floor.
The other lemmings can then use this to get to the exit.
Method 3
Edit
This one is very similar to the first one, so I'm going to skip a few steps.
When the second lemming finally reaches the top, make it dig. Dig again. Now, wait until the lemming reaches a sort-of left. Make it dig again.
This takes some trial and error, so get prepared to fail and nuke the level multiple times. When the lemming falls, make it a bomber. When it explodes, it should leave a hole so other lemmings can pass.
Nuke the blocker.
When beaten with this method (and probably the ones above,) you should get a 96%.
Access codes
Edit
Note that these access codes are of little use as this level can be accessed from the main menu by setting the difficulty to Crazy.
Amiga: TFLCAHVFBD
Macintosh: TFHCAIVFBQ
The level title is most likely a reference to someone saying "That's a good level" while it was being designed/played at DMA Design.
The level's layout was reused in Walk through here but cautiously, the 13th level of the Taxing difficulty in Lemmings for the Sega Genesis.
Community content is available under
CC-BY-SA
unless otherwise noted.