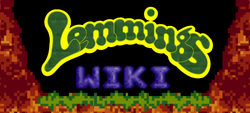 Welcome to the Lemmings Wiki
The superguide about Lemmings that anyone can edit.
Please help us out by adding and perfecting articles!
We are currently editing over 1,179 articles, and 1,515 files since 23rd February 2008..
---
Message from the Editors

---

December 11, 2017

Hey there everyone! I have a quick suggestion for the wiki, though since the admin seems to be inactive I didn't know who I should talk to about it.. so I figured I'll post it here for the most publicity.

I've been on this wiki for a bit and I've noticed that the formatting of the levels page are a bit lacking.. the images are too small, and there isn't much glanceable information. You have to read through the infobox to get the most basic details like available skills and whatnot. So I suggest that we revamp the levels page. The following is a revamped version of the "Just dig!" article I made in my sandbox, and shows what kind of article structure I'm going for: Link

A few of you can probably tell this was adapted from the levels page of the NeoLemmix website, which I think is excellent. I've already written up the templates necessary to do this much, so I'm just waiting for community approval at this point. Any thoughts? Please leave them on my talk page.

-- Revvie | Talk 09:16, December 11, 2017 (UTC)

---

November 18, 2017

Hello and welcome to the Lemmings Wiki! I stumbled upon this abandoned wiki almost a year ago, and in that time I've made some very minor improvements and additions. Feel free to improve any page you desire or add more pages. In my opinion Lemmings is not forgotten, someone will stumble upon this page again eventually.

-- The TannMann

---

August 7th

Wow! It seems this wiki has grown a lot. More users, more pages, more everything! I like that people are taking care of this place. I will not come here alot, so find me at Club Penguin Wiki if you need anything.

--I'm Big Bird! Say something! 05:08, 7 August 2009 (UTC)

---

March 10th

After all these months, I, User:Bigbird96, return, playing more Lemmings and making more articles about it here. I was the one who came up with the original logos for the wiki, and until LemmingsWorld comes back, I am going to take care of this not so popular wiki.

--I'm Big Bird! Say something! 20:46, 10 March 2009 (UTC)

---

March 5th

I kinda feel bad about having created this wiki over a year ago and abandoning it, but I see that some progress has been made by people who found it. I really have to thank those users who helped the Lemmings Wiki, ecspecially BigBird who came up with our logo. I have been playing Lemmings Revolution, so if we can get publicity I would like to work on the wiki again. I hope other users will join me.

Wiki Creator

Games

Gameplay mechanics

Other stuff

Did you know?

What's new at the Burrow?

23rd February 08/Lemmings Wiki

The Lemmings wiki is created. Yippeeeeee!

23rd February 08/Our first article

Today, along with the wiki, our first article was created, Fun.

5th March 08/A revamp... of sorts

Trying to restart the Lemming Burrow. It really is one of my better ideas.