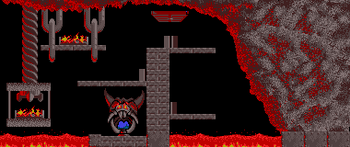 | | | | | | | | | |
| --- | --- | --- | --- | --- | --- | --- | --- | --- |
| 10 | 20 | 20 | 20 | 20 | 20 | 20 | 20 | 20 |
Other versions
DOS

Sega Master System/Sega Game Gear

PSP

---
Lock up your Lemmings is the thirtieth and final level of the Fun difficulty in Lemmings.
Strategy
[
]
This level is slightly frustrating because there is a 50% chance that your first Basher will bash in the wrong direction, forcing you to barricade the end of the platform with either a Blocker or Builders.
Have the first Lemming bash through the first lock to the left, then bash again when he lands in the second lock.
If he goes left: Let him walk a few steps, then dig. The drop won't be fatal and your Lemmings will reach the exit.
If he goes right: allow him to bash about halfway through the column, then get him to dig for a while. Make him build to turn him around, then bash or mine so he falls onto the exit platform.
Either way, it is possible to get 100%, though this is probably easier in the second case.
On the Windows 95 version, this strategy is a lot easier to pull off thanks to the arrow keys allowing players to only select a Lemming going in the selected direction.
Version differences
[
]
Atari Lynx
Only has 40 Lemmings and 13 must be saved.
The space located under the entrance is considerably wider.
2006 Remake
7 minute time limit.
Wider gaps, making it easier to choose a lemming going the proper direction.
Access codes
[
]
Acorn Archimedes / Atari Lynx: DIRTYGIRTY
Amiga: FHBIJLMODY
DOS:
Macintosh: FHCMKLMODO
PC:
Sega Genesis: DRKCX
SNES: FXWBBSL
Trivia
[
]
---