Other versions
DOS
Sega Master System/Sega Game Gear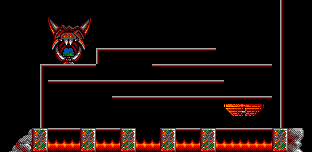 PSP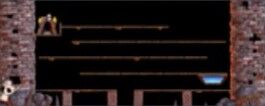 Spectrum
---
Lemming sanctuary in sight is the eighth level of the Tricky difficulty in Lemmings.
Strategy
[
]
Order a lemming to start building the bridge above the hot molten lava. You don't have any Diggers or Miners, so you don't have much choice but to utilize a Blocker behind the Builder to hold the other lemmings back. Use your Builder to build up the necessary ramps across the different floors of the level. Once the pathway has been made, utilize another Builder to construct a staircase above the Blocker, so your lemmings could reach the exit and raise the release rate to 99. Nuke the Blocker to finish the level.
Remember that you can also build up from the 3rd floor to just near the exit.
ZX Spectrum strategy
[
]
Turn the first lemming into a Blocker before the hole and have the next lemming build to the first platform above. There is a small gap in the platform to the right so assign a Builder skill to the first lemming just before he reaches it, so that it is sealed with one tile. Then have a lemming build left to reach the second platform. Build once again to seal the small gap to the left and build to the third platform. Place another Blocker before the gap to the right of that platform, then build to the top platform to reach the exit. Nuke the remaining Blockers to end the level.
Version differences
[
]
Atari Lynx
Renamed "Lemming sanctuary".
Only has 40 Lemmings and you need 24 saved.
Macintosh
Only has 80 Lemmings and you need 48 saved.
Sega Genesis
Only has 20 Builder skills.
ZX Spectrum
Only has 20 lemmings.
Time limit reduced to 7 minutes.
Only has 5 Blocker skills and 13 Builder skills.
The entrance is on the left side of the structure.
2006 Remake
Access codes
[
]
Acorn Archimedes / Atari Lynx: DONTBELATE (don't be late)
Amiga: DIBIJLLGEP
DOS:
Macintosh: DMCMJLLGEY
PC:
Sega Genesis: TVDXN
Sega Master / Game Gear:
SNES: RCHFGNN
ZX Spectrum: MNHBAJLNDX
Trivia
[
]
This map is also used in level 23 of the Taxing difficulty, King of the castle.
This map is the 29th level on the Spectrum version of Lemmings and the 14th level in the Tricky difficulty.
This map is the 5th level in the Tricky difficulty on the Genesis version.
---