Other versions
DOS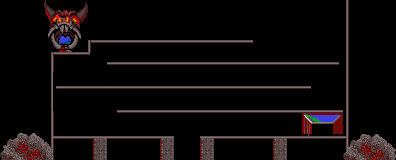 Spectrum

---
King of the castle is the twenty-third level of the Taxing difficulty in Lemmings.
This Deja vu level's solution is no different than the identical level (Lemming sanctuary in sight). You must utilize Builders to cover the gaps. Only this time - there are no Blockers to help you out. You are allowed to lose five Lemming, but not more.
Use five Builders at the gap with the hot molten lava. When one of them Lemmings turns around, start building the ramp to the second floor. Watch out for Lemmings approaching to the hot molten lava from the other side! Have them Build over the gap to seal it completely. You may lose four to five Lemmings here, but them's the breaks.
Use three Builders to get to the third floor, then four Builders to get to the fourth (you can do it with 3 Builders only, but it's extremely difficult). Finally, you should have four or three Builder skills left to reach the top, and allow your Lemmings to exit. You need to calculate the trajectories carefully, as using up more Builders will make your stock run dry and thus fail the level.
Version differences
Edit
Atari Lynx
Only has 40 Lemmings and 35 must be saved.
Some platforms can be reached using only one Builder.
Macintosh
There are only 80 Lemmings, meaning only four Lemmings can be lost, making the level significantly more difficult.
Access codes
Edit
Acorn Archimedes/Atari Lynx: JUSTFOREME (just for me)
Amiga: NHLFHFADHM
DOS:
Macintosh: OINNHGCDHL
PC: NHNNHGADHX
Sega Genesis: HFDLE (America) / NYBXQ (Europe)
SNES: LVFHHMM
ZX Spectrum:
This map is also used in level 8 of the Tricky difficulty, Lemming sanctuary in sight.
This map is the 38th level on the Spectrum version of Lemmings and the 8th level in the Taxing difficulty.
Some platforms have no lava.
---
Community content is available under
CC-BY-SA
unless otherwise noted.