Other versions
Windows 95/98

Sega Master System/Sega Game Gear

PSP

Spectrum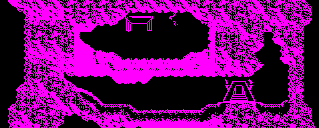 ---
Just dig! is the first level of the Fun difficulty in Lemmings, and the very first level ever in Lemmings history.
As the first of several introductory levels, its intention is to familiarize the player with the various skills in the game. In this level's case, Digging.
Strategy
[
]
Simply have one Lemming dig though to the lower level, with the rest following towards the exit.
Version differences
[
]
2006 Remake
All lemmings must be saved.
7 minute time limit.
Game Boy
This level is the same as the NES version, but without color.
Game Gear
NES
The fall distance from the top of the midsection to the bottom floor can kill. Therefore, all Lemmings should dig to survive.
Sam Coupe
Time limit increased to 12 minutes and 30 seconds.
Sega Master System
Access codes
[
]
Note that these access codes are virtually useless as this level can be accessed from the main menu as long as the difficulty is set to Fun.
Acorn Archimedes: DAVIDJONES (For "David Jones", who was the programmer for the Lemmings games)
Amiga/Atari ST/Macintosh/DOS/Super CD-ROM²: CAJJLDLBCS / DGHPVMXHIY (DOS Demo)
Sega Genesis: LDDTD
SNES: SRDTPTP (That code is shown after completing SUNSOFT Level 5 in the Super NES version)
Trivia
[
]
This map is also used in level 15 of the Tricky difficulty, Ozone friendly Lemmings.
In this game, Digging is taught first out of the 8 skills. In Lemmings Revolution, it is taught last.
In the Arcade Prototype, you can use digging, mining and bashing to get through the level.
This is the 1st of four levels in the PC demo version. (The other three are This should be a doddle!, If at first you don't succeed.., and And then there were four....).
Being the first level of the first Lemmings game, Just dig! introduces a lot of firsts:

It is the first level with 10 Lemmings.
It is the first level where 10% of Lemmings must be saved.
It is the first level with a release rate of 50.
It is the first level with a time limit of 5 minutes.
It is the first level to use the can-can track on most platforms.

Exceptions include Atari ST, Lynx, and DOS.

It is the only level in the first Lemmings game to not have a well-known access code. To find it (CAJJLDLBCS), you have to look at the code scheme.
See Also
[
]
---