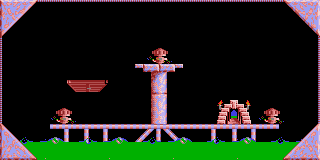 Other versions
DOS
Sega Master System/Sega Game Gear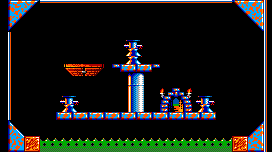 PSP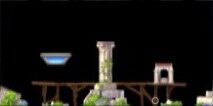 Spinners omitted from preview
---
I have a cunning plan is the twenty-sixth level of the Tricky difficulty in Lemmings.
Strategy
[
]
You must act very fast, the high release rate can make this level diabolically hard.
Quickly give Builder skills to the second, third, fourth and fifth Lemming as soon as possible, while you order the first Lemming to be a Basher at the pillar. Some Lemmings will bump into the wall and turn back alright, but the built staircases will prevent them to walk into the spinner hazards, and thus, they shall walk back to the right. (This does not always happen and, especially with novice players, the turned lemmings don't stop and walk into spinner hazards. In order to avoid turning other lemmings back and to ease the timing a little bit, make the lead lemming who is coming up behind the first Basher into a second Basher - this gives enough time for the first Basher to finish the tunnel.)
Alternate strategy
[
]
Alternatively, a Blocker can be placed as soon as it lands under the entrance while the lead Lemming bashes through the pillar. When the last Lemmings are making it through the tunnel, one of them already inside can be made a Builder, which will make him hit his head and turn back. Now you can make him dig under the Blocker, freeing him, and make him a Builder again to turn back to the exit. Extra care is to be taken that he doesn't dig too deep, lest he falls into the acid, nor too shallow, lest he doesn't turn back when made into a Builder.
Sega Master System and Game Gear strategy
[
]
Because the original release rate is at 50, leave it right where it is and let one Lemming bash through the wall. Then it is okay to speed up the rate.
Version differences
[
]
Atari Lynx
Renamed "A cunning plan".
Only has 40 Lemmings.
The spinner hazards are replaced by the Thumper trap.
No Floater skills are available.
Game Gear
Macintosh and PC
Sega Master
2006 Remake
Access codes
[
]
Acorn Archimedes/Atari Lynx: CHOPSTICKS
Amiga: BINLLFIIFY
DOS:
Macintosh: BKNONFIIFP
PC: BINNNFIIFM
Sega Genesis: XJJCX
SNES: BDGQRNX
Trivia
[
]
---