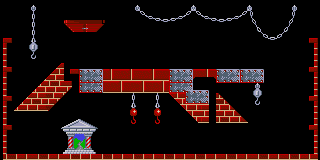 ---
Five Alive is the sixteenth level of Wicked, featured in Oh No! More Lemmings.
Turn the first lemming into a Bomber the instant it appears in the entrance. The second lemming must mine down once he lands in the Bomber's crater. He will collide with the steel but should create a hole deep enough to make the other lemmings turn to the left. Have the first lemming in line build over the hole in the ground when he's on the edge of the brick. One or two lemmings may fall through before he's finished so assign Floater skills as needed. This way, all five lemmings will safely make it to ground level where the exit is located.
Access codes
Edit
Amiga: RUDLGILMEI / PUMHGIMMEM
DOS:
Macintosh: RULHGILMEM
Community content is available under
CC-BY-SA
unless otherwise noted.