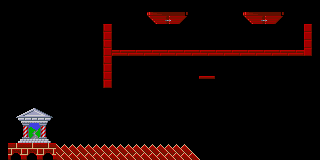 ---
Dolly Dimple is the second level of the Crazy difficulty, featured in Oh No! More Lemmings.
Make a lemming from the right trap door build towards the wall on the left. The stairs should start at about 3 bricks from the wall, but don't finish it. We're just starting this early before the crowd gets too chaotic.
Make one of the lemmings facing left a climber. Once he has reached the top of the wall, wait for him to walk to the edge and start digging.
When done right, this should result in him digging only the left side of the wall. The right side will continue to keep the other lemmings safe.
Once the climber has dug enough that there's only a few more pixels of the wall left, stop him by making him build. After a few steps, stop the building by making him dig. This should result in a safe path where the other lemmings can fall without splatting.
Continue the bridge we built in the first step to let the others out of the containment area. The lemmings should then fall safely and walk to the exit.
Community content is available under
CC-BY-SA
unless otherwise noted.