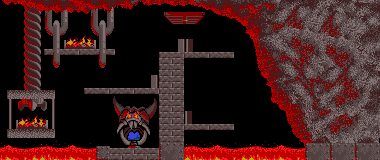 Other versions
DOS

PSP

---
All or Nothing is the twenty-fourth level of the Mayhem difficulty in Lemmings.
Strategy
[
]
Bash left, bash right, bash left. This level mostly depends on luck. Luckily, it's very easy to restart if you do fail. One trick is to place the cursor on the opposite side of where you want your Lemmings to bash. Because the pixel that determines a Lemming's position is located slightly to the back of its in-game sprite, this will help select a Lemming that is going in the right direction.
On the Windows 95 version, this strategy is a lot easier to pull off thanks to the arrow keys allowing players to only select a Lemming going in the selected direction.
Version differences
[
]
Atari Lynx
2006 Remake
2 minute time limit.
Initial release rate of 10.
Wider gaps, making it easier to choose a lemming going the proper direction.
Access codes
[
]
Acorn Archimedes / Atari Lynx: LEMMSSTORE
Amiga: IJHLFIFCJS
DOS:
Macintosh: OJILFMGCJO
Sega Genesis: BBKFH (America) / MCJZP (Europe)
SNES: RNHQXVM
Trivia
[
]
---