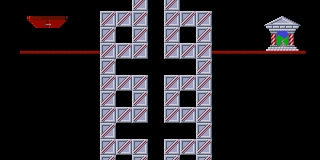 ---
Across the Gap is the sixteenth level of the Crazy difficulty, featured in Oh No! More Lemmings.
The first lemming bashes through the obstacle while the second Lemming digs down into the obstacle while in the Basher's tunnel and before the square hole. Have the Digger build once the hole is deep enough to trap all lemmings (about a few pixels into the fourth block from the top should be good). By then, the Basher should have reached the titular gap so have it builder across it using one Builder skill. Once the gap is sealer and the first lemming turns around, have it mine down to let the other lemmings escape the Digger's tunnel. If the Miner does not stop working once the other lemmings are free, use another Basher skill or the last Builder skill to stop him and turn him around. Bash through the second obstacle to reach the square hole, and again to reach the exit. Raise the release rate to 99.
Access codes
Edit
Amiga: RVLICIMECR
Macintosh:
Community content is available under
CC-BY-SA
unless otherwise noted.