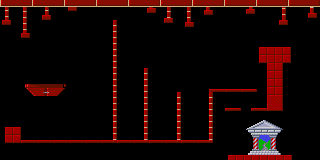 ---
A TOWERING PROBLEM is the eighth level of Wicked, featured in Oh No! More Lemmings.
The first lemming is turned into a Climber and then into a Bomber when it steps on third brick for it to clear the first pole without breaking through the thin floor. Make another lemming into a Bomber-Climber when it steps on the sixth brick to clear the second pole. Next, send another Climber over the third pole, but turn it into a Bomber just before it reaches the top of the third pole, so that it clears the fourth pole. Send a fourth Climber over the the third pole so that it can build to the exit. Finally, make one more lemming a Climber-Bomber when it steps on the eighth brick.
Access codes
Edit
Amiga: RTDLGILEEP / PVLHGIMEEE
DOS:
Macintosh: PVLHGMMEEI
Community content is available under
CC-BY-SA
unless otherwise noted.