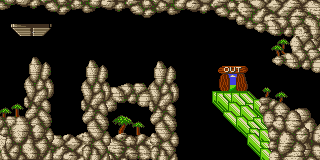 ---
Statistics
Difficulty
Crazy
Level #
5
No. of Lemmings
80
To be Saved
100% (80 Lemmings)
Release Rate
1
Time
4 Minutes
Level Chronology
Previous
Lemming Express

---

Next
The Stack
24 hour Lemathon is the fifth level of the Crazy difficulty, featured in Oh No! More Lemmings.
Raise the release rate to 99 and let all but the last Lemming fall into the pit below. Have that Lemming build to get across the pit the moment it lands on the one rock that sticks out. Once your Builder has made it across, begin building stairs in a zigzag to help the other Lemmings escape the pit. Have the Trailblazer build out of the shallower pit, and then to the exit. Finish building stairs to let the other Lemmings out of the pit, making sure they head right.
Alternate strategy
Edit
Have the first Lemming build over the pit to the right of the entrance. Turn any other Lemming that enters the level into Builders as well to stop them from falling below. Once your Lemmings can make it across, have one more Lemming begin building to the exit. To keep the other Lemmings behind, have one dig through the Trailblazer's ramp. Once there's a safe path to the exit, raise the release rate to 99 and repair the hole in the ramp.
Access code
Edit
Acorn Archimedes:
Amiga: CAHRUFLJBE
Macintosh:
PC:
This level's title is a pun on the phrase "24 hour marathon".
This level's map is recycled for Present level 11, Field athletics, from the Sega Genesis port of Lemmings.
Community content is available under
CC-BY-SA
unless otherwise noted.